Several marketing teams selling Forex robots sent emails in the last days, in which they informed about the launch of a new Forex robot. This new robot is called Hedge Track Trader. The charts showing beautiful yields aroused my interest at first sight, so I examined what they actually showed. However, it turned out based on the details that it will not be a real presentation, but rather awareness raising.
They did not dare to take big risks, because they started to run it with $ 100 on a cent account opened at FxOpen that seems as $ 10,000. The monthly average yield is quite good and the chart is also nice and smooth.
But these kind of graphs indicate a system which does not use any stoploss, but it tries to wait and manipulate with new positions until the balance of the group of positions will be positive, and it closes them only after achieving this. This is quite a dangerous strategy and it means that the robot has open positions sometimes for weeks or months and waits for a more favorable exchange rate movement.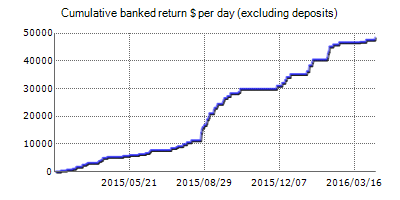 This is shown very well on the fxblue result chart, with the long, straight, horizontal lines.
In the meantime, the investor is nervous and prays that the exchange rate shall go in the favorable direction and not in the wrong direction. We can find a floating chart among the fxblue statements, that is the curve showing the balance of open positions in the same time. Here you can see what I wrote about.


It happened several times that the value of contingent positions exceeded 60%. In fact, it was even 70% once. I emphasize for  beginners, this means that, for example, the $ 1,000 deposited is worth only 300 and we do not know whether it will be 1000 or 0 in the next few days, because both are possible.
So, I can only recommend this robot to those who really can take a 100% risk of their deposits and do not stop the robot at -50%, thus actually realizing the loss.
Based on the list of positions, at least $ 1,000 is needed on a regular account for a good start of trading (of course, on a cent account $ 100 is enough as well). Due to the large contingent positions, the leverage is at least 1: 500.
After all I have written, I think the $ 497 price that contains a 60-day money back warranty is a little bit high.
The robot's website, where you can also buy it: Hedge Track Trader
My Hedge Truck Trader account was launched
My demo account was already running this week. So far it looks good, but I wonder, what it will do in the longer term. For the time being, I do not plan to run it on a live account, because I do not really sympathize with its strategy. But I wrote about it in the presentation. Here you can keep track of what it will produce each week: