Several robot teams sent me emails about the launch of a new Forex robot, the Funnel Trader. I have some doubts, because neither of their robots has worked really well so far, and there might just be a marketing team behind their united efforts. Nevertheless, my curiosity did not let me rest, so I took a closer look at it.
It is a good sign that we can find a live and a demo account statement on the page as well. Too bad that we cannot see the further accounts illustrated only with pictures, so we cannot be sure that this was produced by this robot, or by an other one, or by a clever designer. Otherwise, we get the investor access to the live statement, so they're not hiding anything.
The history of the live statement is not long yet, and it is similar to the demo statement. The average monthly rate of return is bigger than the largest decline so far, this is my favorite data. In case of myfxbook, it refers to the lowest point of the account value of the pending positions, because there is absolutely no setback on the chart. Based on this, it can hit the prospective exchange rate very well, or otherwise bypass the use of stoploss. Or it has not had any stopped positions so far. On the basis of this, we can either be satisfied with it, or it can raise doubts that this robot uses a dangerous strategy. The right answer would probably be the latter. In the robot settings, you can only select the initial lot size and the sizes of the subsequent 20 lots.That is, if the price turns in the wrong direction, the software operates with constantly growing positions, in order to close with positive result in the event of a fallback. And if there is no fallback in the meantime, it takes the whole account. So, you should use it with caution until you get to know its behavior. Otherwise, it can trade on nine currency pairs according to myfxbook, although it is enough to upload it to a EURUSD, M15 chart at installation. Does it work as a copier? It has not been revealed yet.
According to the user guide, the strategy is based on recognizing short-term trends and trading in the direction of these. It opens positions in more currency pairs at the same time and trades until the balance of the trades of the open group will not be positive.
The default settings can be used from an account of $ 3,000 up to $ 30,000. I launched my own ECN Demo account of 5000 at IC Markets with these, and the live account on the page runs with these settings, too. Otherwise, it proposes a setting for those who just want to start with $ 1,000.
You can track my demo account here: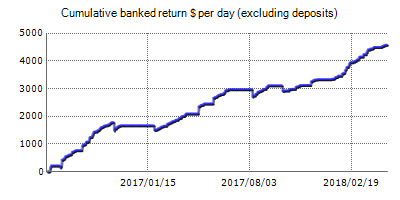 We can register only one account at the same time, so we cannot parallelly trade on a demo and on a live account.
It cannot be bought, it is available only for a monthly or annual fee. The monthly fee is $ 127, the annual subscription can be purchased substantially cheaper, for a 3 × 297-dollar fee.
Obviously, this service is not cheap, but luckily you can get it for $ 5 for a 14-day test period. Pay attention to the deadline, I suppose if you do not want to continue to use it, you should cancel it in due time, as they will automatically invoice the monthly fee after 14 days. Of course, you will not have much to lose, since there is a money back guarantee for two months, that is, for 60-days.
You can find the web site of the robot here:FUNNEL TRADER