First I met the Forex robot InControl in 2014, but it could not have been convincing, because I quickly forgot it. The other day, I came across the old email exchange, and out of curiosity, I looked at the web site of the robot, whether it still exists. Fortunately, it does, and I thought this was already a good sign, as the sites of the scam robot makers do not usually survive many years. Let's just say I would not praise this site unseen, as even a blind could see that the live account is only five months old, while I know it that the web site has been running for two years.

Everybody thinks what he wants, but I feel the other accounts failed. After all, the list of positions also shows that this is a grid and martingale robot, which can be very dangerous. Whether this is what's really happened, I do not know. In any case, treat it with caution.
The result is very nice anyway. The monthly average is well above the previous highest drawdown. As if would see a dream.
Compared to the information from four years ago, it seems that the reduction of the number of currency pairs improved the results. They recommend running it only on the EURGBP and AUDUSD pairs, because the former two pairs containing JPY did not work in the long run.
I uploaded it to a demo account, which you can track here: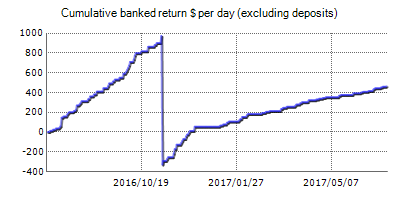 The robot has a mid-range price. The one-year license for a live account costs $ 208 + VAT, but, if it really works, it is worth to buy a license for an unlimited period, for two live accounts for $ 285 USD + VAT.
The website of the robot is relatively simple, it is not stuffed with marketing texts. Everyone can check this on the Forex InControl website